Online Courses
Concur Travel and Expense is required for all new Concur users. This course will provide an overview of processing P-Card transactions, travel and miscellaneous reimbursements, and payments to companies through the Concur system. This is an interactive e-learning course available through SkillPort.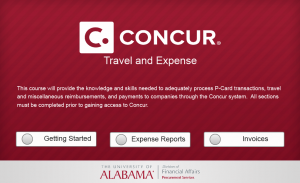 Instructor-Led Courses
Concur Travel and Expense: System Overview and Introduction– This course will provide an introduction to the Concur System including the Request, Travel, Expense, and Invoice modules of Concur as well as the user profile, setting up delegates, and booking travel. This instructor-led course fulfills the Concur training requirement for new Concur users to gain system access. Register for upcoming sessions through Skillport.
Upcoming Sessions
Thursday, November 29, from 3-4:30pm
Monday, December 10, from 3-4:30pm
Wednesday, January 30, from 10-11:30am
Additional Training Resources
We encourage you to make use of our library of Concur Videos and Tutorials at any time including: